welcome to my
anna kournikova
web page
(sexiest babe in the universe)
This Site IS UNDER CONSTRUCTION but most of it is done so stay around and have a look. Please press Ctrl-D to bookmark it.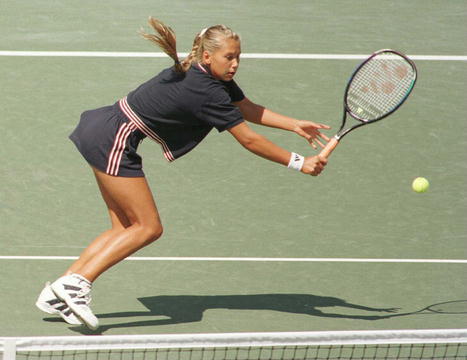 This site is in no way associated with Anna's sponsors.
If there are copyright pictures etc, on this site please email me and I will remove them.

Check out my Picture Gallery to see some hot Anna pictures. I will try to update this when I can.Anna is currently ranked in the WTA rankings!!!! Go Anna
---
Biography
Born: June 7, 1981. Moscow, Russia
Height: 5'8" (1.69cm)
Weight: 55.5kg
Plays: Right handed
Hair Colour: Blonde
Eye Colour: Brown
Coach: Pavel Slozl
Turned Pro: 1995
Sponsors: Yonex, Adidas
Personal
Parents: Mother Alla and Father Sergei
Favourite Tournament: Roland Garros, French Open as well as Wimbledon
Likes: Reading, watching television, listening to music and dancing
Favourite Foods: Fish, and Italian food
Favourite Number: 42
Favourite Season: Spring
Favourite Colour: Black
Favourite Band: Jane's Addiction
Favourite Song: Summertime Rolls
Favourite TV Shows: Melrose Place and The Tonight Show with Jay Leno
Favourite Tennis Players: Pete Sampras, Boris Becker, Monica Seles ans Steffi Graf

---

Grand Slam History
Singles
98 97 96
Australian 3r 1r --
Roland Garros 4r 3r --
Wimbledon ? SF --
US Open - 2r 4r
---

How To Contact Anna
Anna Kournikova
c/o Bollettieri Tennis Academy
5500 34th St. West
Brandenton, FL 34210
USA

OR

Anna Kounikova
c/o IMG
One Earview Plaza Ste 1300
Cleveland, OH 44114
USA
---

Links to Other Anna Sites
Anna Kournikova Homepage
Future Stars Of Professional Tennis
The Anna Kournikova Page
The Anna Kournikova Page
An Anna Home Page in Spanish
Anna Kournikova Shrine
The Obsessive Anna Kounikova Fan Club
Jon's Anna Kounikova Site
I love Anna Kournikova Page
Anna Kounikova: The Rising Star